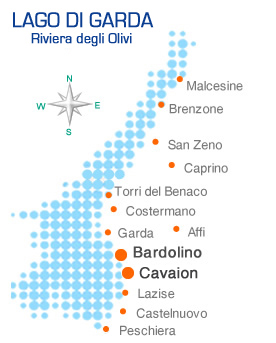 Welcome to Bardolino!
Bardolino is a well-known, lively holiday resort on the widest part of Lake Garda, with the gentle slopes of the moraine hills and widespread vineyards that have made it famous around the world for its Bardolino wine.
The historic town centre is dominated by the tall bell tower on the church of Saint Severo, and the typical houses and narrow streets, where various witnesses of the parts and authentic masterpieces of art and local history can be admired.
Long stretches of beaches and attractive small bays make this the ideal choice for a family holiday, and the more energetic can enjoy the walks along the bustling lakeside to the nearby towns.
A range of sports can be tried at Bardolino while you are on holiday, and there is something for everyone: water-skiing, tennis, mountain bike, horse-riding, golf and minigolf.
Bardolino also offers an extensive choice of restaurants, coffee bars, ice cream parlours, piano bars and night clubs.
There is a ferry service from the port to the other locations around Lake Garda, while the nearby Affi motorway junction makes Bardolino and the other tourist resorts easy to reach. The international Verona airport is just 30 km away.